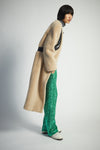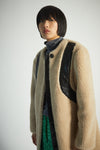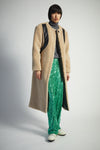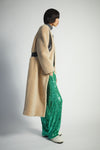 Laine Faux Shearling Coat, Natural
A harmonious blend of timeless design and modern elegance, the Laine Coat captures  the classic appeal of shearling while adding a contemporary touch, making it a standout piece in your collection.
Crafted with meticulous attention to detail, the Laine Coat boasts a classic shearling look that's entirely vegan, aligning with your values without compromising on style. The natural / cream hue lends a sense of purity and versatility to your ensemble, allowing for effortless pairing with a variety of outfits. 
Embrace the essence of sophisticated style with the distressed leather detailing, adding an edgy flair to the coat's classic foundation. This fusion of elements creates a visually striking piece that effortlessly combines the best of both worlds.
Experience the luxurious softness of the Laine Coat against your skin, while reveling in its remarkable warmth. This coat offers the ideal blend of comfort and insulation, ensuring you stay cozy even on the coldest days.
Embodying a timeless silhouette updated with a touch of contemporary flair, the Laine Faux Shearling Coat is your go-to choice for both style and practicality. 
More Details
Collarless classic shearing (vegan) coat
Interior zipper to be zipped for warmth
Pockets on both sides for phone and other necessitites
Not overly heavy - lighter in weight and good for long days and travel
Fits true to size
Model is a size 2 (5'10") and is wearing the size S
Poly-blend shearling
Vegan leather distressed details
Dry clean only
Saint Art is changing the traditional fashion system down to the way our clothing is created. We reduced the design and production process from the 1-year standard to a 30-day timeline in order to produce more accurately and with less waste.
Please email customerservice@saintartnewyork.com if you wish to pick up your order in our New York City showroom.