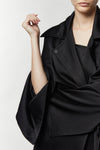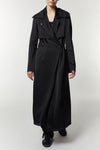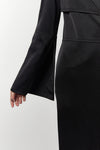 Andy Trench Coat & Dress, Black
The Andy Trench Coat and Dress, is a true epitome of elegance and versatility, meticulously crafted from our signature charmeuse fabric (machine washable). This exquisite piece features a side tie, internal button clasp, slit sleeves, and a wide collar, making it a stunning addition to your wardrobe and an update to a classic look and style.
The Andy Trench Coat and Dress boasts a unique design that allows it to be worn in two distinct and stylish ways. As a trench coat, it exudes timeless sophistication, adding a touch of refinement to any ensemble. Alternatively, this garment can be transformed into a dress, offering an alluring and captivating outfit option.
More Details
Our signature charmeuse fabric - machine washable (air dry), non-wrinkle
Can be worn as a trench coat or dress
Internal button closure and tie
Wide collar and slit sleeves for styling
True to size fit
Model is 5'9" and wearing a size small
Heavy weight satin poly charmeuse - luxe fabric
Non-wrinkle
Machine washable (air dry)
Saint Art is changing the traditional fashion system down to the way our clothing is created. We reduced the design and production process from the 1-year standard to a 30-day timeline in order to produce more accurately and with less waste.
Please email customerservice@saintartnewyork.com if you wish to pick up your order in our New York City showroom.