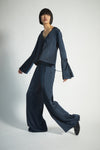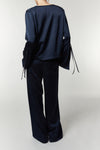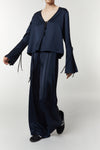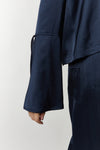 Adele Long-Sleeve Blouse, Navy
A blend of sophisticated style and relaxed elegance, this versatile blouse offers a loose and comfortable fit, making it a fantastic choice to dress up a pair of jeans for a trendy yet effortless look. You can also wear it as part of a full charmeuse set, showcasing its exquisite luxe fabric and refined allure.  
The signature charmeuse fabric is machine washable (air dry) and non-wrinkle.
More Details
Heavy weight charmeuse - luxe and does not show underwear lines
V neck with ties
Bell sleeves with ties
True to size fit
Model is 5'9" and wearing a size small
Heavy weight satin charmeuse
Non-wrinkle
Machine washable (air dry)
Saint Art is changing the traditional fashion system down to the way our clothing is created. We reduced the design and production process from the 1-year standard to a 30-day timeline in order to produce more accurately and with less waste.
Please email customerservice@saintartnewyork.com if you wish to pick up your order in our New York City showroom.